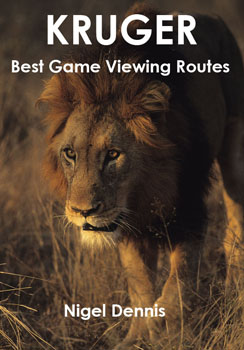 Kruger Best Game Viewing Routes - the ebook
Kruger Best Game Viewing Routes
is a must for any visitor intent on seeing as much game as possible during a stay in the Kruger National Park. Whether you are a 'first timer' or an 'old hand' this guide will significantly improve your chances of seeing lots of game. Nigel Dennis provides a wealth of information on the most productive routes to take and best spots to visit, plus advice on the best times of day to see different species. In addition to the much sought after 'Big Five' this book provides invaluable hints on how to spot many of Kruger's rare and more elusive animal species. Each camp and the roads around it are described in detail, together with a map of each area highlighting hot spots and top routes.
This illustrated travel guide also covers useful photo tips to assist you in obtaining great images from your visit to the Park.
As a professional wildlife photographer, the author spent over 800 days in Kruger over a ten year period. This book is based on his own first hand experiences, supplemented by information provided by Park staff and field researchers. Your time in Kruger is limited so make the most of it with
Kruger Best Game Viewing Routes
.
This ebook edition is a revised and updated version of the hugely popular 'The Getaway Guide to Where to Watch Game in the Kruger National Park' (2007 edition) previously published in paper format by Sunbird Publishers, Cape Town.
Preview Sample Chapter of ebook
Downloads available from the following links
Kindle
iBooks
Nook
Text and images © Nigel J Dennis